Family Owned and Operated Packaging Specialists in the Metro Detroit Area for Over 60 Years
Pak-Rite Industries is committed to utilizing proven workflow processes that can be tailored to any companies specific packaging and display needs. By partnering with the Pak-Rite team you will add efficiency and profitability to your companies distribution.
Pak-Rite Industries has all the right tools and machinery required to successfully launch any companies product to the marketplace with "Just in Time Delivery." Our dedicated and highly trained personnel can provide your company with all of our services with an intense focus on quality and customer commitment. Contact us today!
ISO 9001 Certified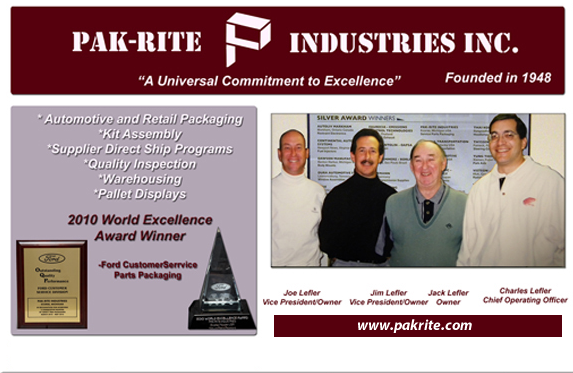 PakRite continues to serve as the benchmark example for all FCSD packagers to follow. Keep up the great work!
Sourcing/New Model Launch Coordinator
Ford Motor Company
The thanks goes to you and the team. Together with our PS&L and FCSD professionals you are demonstrating process, quality, and people metrics that make it possible to reach our stretch goals. Again, well done and thank you
Global Director
Ford Motor Company
Now that we are on the backside of the EEC transition, I wanted to take a moment and extend a "thank you" to you and your entire team for your assistance during this change. I consistently l receive feedback from the Ford team that your organization is extremely flexible and accommodating toward solving day-to-day issues. It is a pleasure to work with a supplier that is always willing to extend a helpful hand with a common goal. Please extend out sincere thanks to your entire organization. Keep up the good work!
Reman & Inventory Control Manager
Ford Motor Company